Just when you thought it was safe to go back in the attic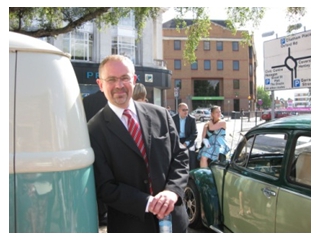 The roof space in any property can be a forgotten and ignored place. It cannot be argued that the roof covering is probably the most important element to a building as water ingress here will inevitably cause a number of problems such as timber decay and invariably significant damage to ceilings and internal decoration.
Horizontal valley gutters formed at the base of where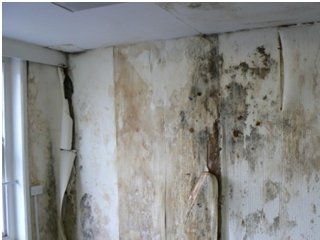 two roof slopes  abut above a building are vulnerable areas where leaves can build up impeding water flow or the lead lining split from age and expansion and contraction. Due to access difficulties these areas are often neglected with sometimes serious repercussions. The damage to wall plaster and decorations here occurred over just one winter season after the building became empty.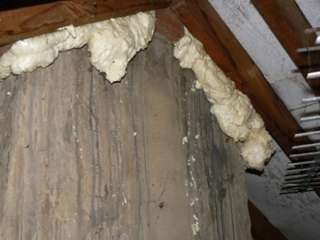 Leaks through defective chimney flashings will normally be apparent by staining on the chimney breast where I have actually seen running water. Correct repair will involve renewal or resetting of the lead or replacement of the cement fillet often found to older properties that invariably cracks, along with repointing of any defective joints to the brick or stonework which can, in the absence of the now fitted damp proof course through the base of the chimney, allow water to percolate through.
Patch repair with foam from the inside is not a satisfactory solution!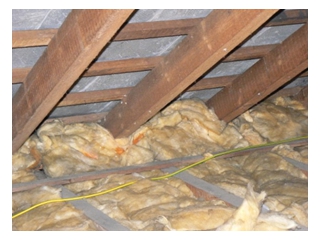 Over recent years the need to save energy has placed increased priority on insulating the roof space which is the place where the greatest loss of energy occurs but carrying this out without due regard to ventilation can lead to serious problems of condensation. Invariably we see insulation quilt packed into the eaves void which blocks the all important air flow at the edge of the roof which should always be left clear.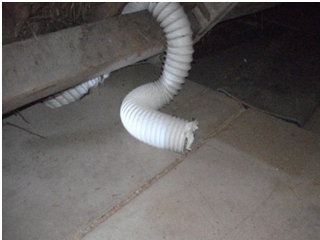 Additional moisture from bathroom fan ducts discharging into the roof space is an unwelcome addition leading to potential further damage from condensation.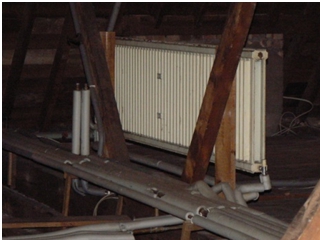 Of course should you not want to spend money insulating your roof you can always heat the space to protect the pipework from freezing!
J P Gainsford Associates is a Taunton based Building Surveying Practice specialising in building pathology, commercial and residential surveys and planning and design work. To talk about similar 'property horrors' or arrange for a survey on any type of building  Chartered Surveyors Jeremy Gainsford or Dan Raymond would be pleased to hear from you.
J P Gainsford Associates Ltd – tel. 01823 288388