J P Gainsford Associates was established in August 2004 with a view to becoming a key practice of Chartered Building Surveyors able to offer a wide range of professional building surveying services to private and corporate clients across the south of England. The Practice became quickly established with a wide range of referred work through a network of established contacts with a large amount of repeat business from both past and existing clients having featured over the last couple of years.
The complement of staff currently comprises two experienced Chartered Building Surveyors, supported by a technician/draughtsman, who is training to become a qualified surveyor and two support staff, one acting as Practice Manager with the other carrying out most of the general secretarial and typing duties. A previous trainee surveyor has since left us to pursue his building surveying degree at Reading University.
We pride ourselves on a personal and friendly, yet professional approach carefully providing all our services within the guidelines set by the RICS to suit individual client's requirements, regularly updating ourselves with regard to the constantly changing raft of building and technical legislation.
An appropriate level of Professional Indemnity Insurance is carried in accordance with the requirements of the RICS.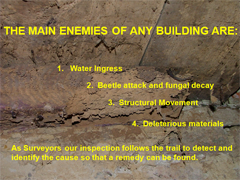 Building Enemies
Watch our short building presentation by clicking on the left hand image. It may take a few moments to download
Download in MS Powerpoint format